Welcome to Constable Country Medical Practice
Our team of healthcare professionals and additional clinicians offer a number of clinics and services to promote good health and wellbeing whatever your medical condition. This may include services offered by the Midwife, Podiatrist or Acupuncture and Chinese herbal medicine Doctor.
We hope you enjoy having a look around the site and familiarising yourself with some of the online features such as ordering a repeat prescription. Whatever your thoughts, be sure to let us know via our feedback function. Comments and suggestions are always a great way of helping us continue to enhance the way we look after you.
We strongly encourage our patients to kindly use "E-Consult" for routine or non-urgent matters instead of telephone as far as possible; click on the link opposite to access the service.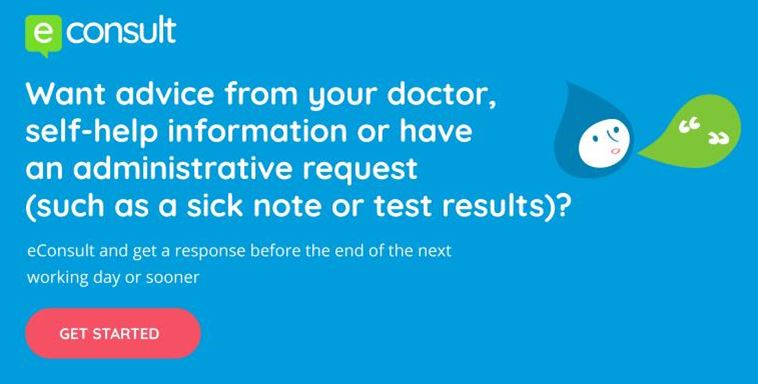 Practice News
In light of recent changes to Covid restrictions, we thought it would be helpful to clarify the position about attending an appointment at Constable Country Medical Practice.
The government announced that legal restrictions requiring the public to wear face coverings indoors will be eased from 19 July along with rules concerning social distancing and the number of people you can meet indoors.
However, health and care leaders say while restrictions are being eased in some public places, strict infection control measures need to be followed in healthcare settings.
This will reduce the risk of vulnerable people from becoming infected and help prevent Covid-19 outbreaks that could result in the temporary closure of the practice.
As such patients and visitors to GP practices across Suffolk, including Constable Country Medical Practice, will continue to be required to wear face coverings. They will also need to continue to socially distance and regularly sanitise hands. Any patient who fails to observe these protocols will be asked to do so.
Treating all patients, especially those who are clinically extremely vulnerable, in a clinically safe environment is our top priority and we will do everything we can to ensure this happens.
It remains a legal requirement for people to self-isolate if they test positive or are told to do so by NHS Test and Trace. Please could you therefore stay away from the practice if you do test positive for Covid.
Published 20th July 2021
Following a recent incident at the practice were personal belongings were stolen, the practice has fully reviewed it's security measures. All patients will now be required to enter and exit via the main entrance at both Capel and East Bergholt sites. On arrival, patients should use the check-in screens to inform us they have arrived and then wait outside the premises. The clinician will call them when they are ready so see them and meet them in the waiting area to escort them to the consultation/treatment room. When you have finished, please leave directly via the main entrance. The practice will be enhancing its CCTV system and putting additional security measures in place to protect both staff and patients.
The practice will be upgrading it's phone system on Wednesday 7th July. The new system will include additional features to help our staff manage calls, and all calls will now be recorded. To minimise disruption we are undertaking as much preparation off site as possible. However, on 7th July we will need to change out our existing system and handsets for our new system and this will inevitably cause some disruption. During this time, all incoming calls will be diverted to temporary phones so patient may experience some additional delay, though we will aim to keep this to a minimum. We appreciate your understanding during the changeover.
Published June 2021
Keep up to date with the latest practice news